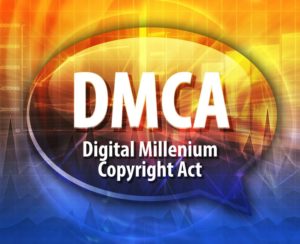 If your company has a website that allows users to post any kind of content, you may be at risk for copyright infringement under U.S. copyright law if any of the content is not original to the party posting it. With most companies now leveraging multiple social media platforms, in addition to their traditional websites, this risk touches most commercial enterprises.
Protecting Your Business from Copyright Infringement Claims
There's good news.  Section 512 of the Digital Millennium Copyright Act ("DMCA") provides immunity for copyright infringement claims based on third-party content posted on a website. One of the prerequisites to qualify for that immunity, however, is for the website operator to designate and maintain a "DMCA Designated Agent" to receive and act on infringement notices. To be effective, the designation must be on file with the U.S. Copyright Office.
Registering Your DMCA Designated Agent
Prior to 2017, given it's modest budget within the Library of Congress, the Copyright Office maintained an antiquated system of accepting and managing DMCA agent designations. It required paper filings – remember paper – and offered limited on-line search capabilities.
Effective December 1, 2016, the Copyright Office converted to an all electronic DMCA agent filing. It also imposed a new requirement that all agent designations filed prior to December 1, 2016 be re-filed under the new system by no later than December 31, 2017, after which all legacy DMCA designations will expire.
If You Already Registered a Agent
Any company that may have previously qualified for the safe harbor under Section 512 of the DMCA will lose its protections if it fails to re-submit its DCMA agent designation electronically using the Copyright Office's new on-line registration system in 2017. If your company has not previously designated a DMCA agent, but still allows users to post or store material or content on its systems, you should consider taking advantage of the statute's safe harbor by designating an agent, and meeting the other requirements of the DMCA safe harbor.
Additional Steps to Ensure Protection
In addition to designating a DMCA agent, to qualify for immunity from infringement, your company must identify its DMCA agent on each applicable website in a publicly available location so it can receive notifications from third parties of claims of infringement. The notice must include a physical address, phone and fax numbers, and e-mail address, all of which must match your DMCA designation filed in the Copyright Office.  Your company must also respond expeditiously to any "take down" notices it receives, in accordance with the requirements of the Act. Because the notifications can arise from any number of factual situations, and your response may vary accordingly, we recommend you discuss with copyright counsel your process for reviewing and responding to these notifications.
If you're concerned about protecting your business from infringement claims ,
please
contact us
to schedule a complimentary and confidential IP protection consultation. Oakland office (510) 344-6601 or San Francisco (415) 252-9600.