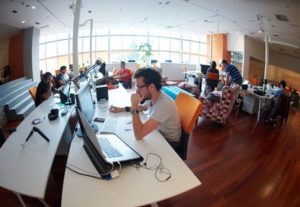 You set out with an idea. You raised funding to nourish it and built a team to drive it to market. At an early point in your growth you arrive at a milestone: the need for more space. It is an affirming mark of your progress but, it brings with it a complex set of new problems. Most likely you will want to lease the space. We have helped dozens of emerging companies negotiate the important lease provisions that will give them flexibility when they need it.
The old adage says, "Think twice before you leap." In negotiating favorable terms our advice is, "think six ways before you lease." Knowing how to navigate the following important lease provisions will help you stay firmly on your path to success.
Six Important Lease Provisions for Growing Companies
Renewal rights
The typical lease is 3 to 5 years. You know now where you want to be. You should protect the option to renew that lease upon its expiration so you can stay where you are, if you want.
Expansion rights
You are planning continued growth over the span of the lease. Secure the option up-front to lease additional space as it becomes available. The ideal scenario is to secure the right to lease additional space next to you or on the same floor or in your building at your existing rate. Lock down fallback options, like rights of first refusal, right of first negotiation. The point here is that your company may grow quickly and need additional space which the Landlord can overcharge you for, since you are already locked into a lease in the building, You can mitigate this problem by having options for adjacent space (if it becomes available) at your existing rate and terms..
Termination rights
There is a good chance your company will outgrow the space the current landlord can offer. There is also the possibility you may want to sell the company to a new owner who already has excess space to absorb your operation. You want to secure the right to terminate early, if you can.
Parking
This may seem inconsequential but the standard parking allowance is around 3 spaces per 1,000 square feet of rented office space. But if your operation is running a call center or other labor-intensive service, it may be inadequate. Be sure to negotiate adequate parking for your staff when establishing the lease.
Assignment and sub-leasing rights
Again, if your company is acquired or otherwise needs to move out of the leased space, having the option to sublease some or all of the space or assign to a new tenant will help save money vs. being on the hook for paying for empty space. Landlords will typically want to exclude these rights or will want to capture the upside of these kinds of changes for themselves.
Lease surrender terms regarding the condition of the premises
This can be a major sticking point between landlord and tenant. As a tenant, you will want the ability to alter the premises. It is essential to proceed carefully. A couple of important factors to consider:
The difference between "fixtures" and personal property. For example, if server racks and cabling that are considered personal property, they can probably be removed when you move out. But, if they are considered to be "fixtures" of the space the Landlord may be able to keep them. .
Generally the tenant accepts the premises in an as-is condition at the start of the lease. Unless the lease says something different, the tenant must return the premises to its original condition at the end. Depending upon the changes, this could be a costly endeavor.
As modifications are made to the space, almost all leases require approval from the landlord so that there are no surprises. Unless the lease agreement spells out differently, it is typical that at the landlord retains the option to either accept these changes at the end of the lease or require the tenant to return the property to the original condition. It is best to negotiate surrender provisions up front.
You will look back on the "we need more space" decision as an historic moment in your company's development. In negotiating your lease, make the experience one you will fondly remember, not one you'll regret.
Finkel Law Group, with offices in Oakland and San Francisco, is adept at both crafting and leveraging commercial property lease terms to protect our clients or help them avoid costly legal proceedings
. When you need intelligent, insightful, conscientious and cost-effective legal counsel to assist you as a tenant or landlord, contact us at our Oakland office (510) 344-6601, or San Francisco (415) 252-9600 or
info@finkellawgroup.com
to speak with one of our attorneys about your matter.