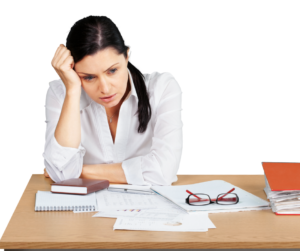 The economic downturn in the recent past hit many small and medium sized businesses very hard. Some have been able to hang on, but only because their creditors have been willing to work with them. Things are starting to turn around, but perhaps not quickly enough to satisfy creditors. If your creditors are getting impatient and threatening legal action, you might be wondering if it's worth continuing, or whether filing bankruptcy for your business is a smart way to go. There is no way you can pay everyone everything they are owed now.
Bankruptcy may afford a temporary reprieve to give your business time to reorganize, or may be a way of dissolving it in an orderly fashion. Here are some things to consider as you decide whether or not to file bankruptcy for your business.
Reorganization:  A business may be able to reorganize under Chapter 11 of the bankruptcy code. Chapter 11 works most effectively for businesses that are able to meet their monthly obligations on a current basis, but have limited funds available to cure past debt, including trade debt and overdue taxes. Under Chapter 11, a Debtor remains in possession of its assets and business operations so long as the Debtor is able to manage the business in a satisfactory manner and comply with the requirements of Chapter 11.
Under Chapter 11, the Debtor has a period of time to come up with a Plan to pay off creditors over time.
Tax debts that are less than three years old generally must be paid within six years of the date the taxes were due.
Interest continues to accrue during the course of the Chapter 11 case.
Taxes that become due after the filing of the case must be paid on a current basis.
The Debtor may be able to modify secured debt to make the payments more manageable.
Unsecured creditors may accept less than the full amount owed to them, and may accept payments over a longer period of time, since the alternative is a liquidation and probably no recovery at all.
Some of the cases in which a reorganization is most successful include those where one creditor has filed suit and is seeking to attach the debtor's assets, or has obtained a judgment and is attempting to enforce it through levies on the debtor's bank accounts, accounts receivable or other assets. The Chapter 11 rules allow the Debtor to maintain control over its business without fear of interruption through levies, and allows the Debtor to force a repayment plan on the creditor.
Other important considerations regarding Chapter 11:
In cases where there is past tax debt and the IRS is threatening to shut down the business, a Chapter 11 may give the Debtor sufficient breathing room to reach an agreement with the IRS or to propose a Plan that will force them to accept payments over time.
It may also afford relief where a debtor has appealed a judgment against it, and cannot afford to post a bond to stay enforcement of the judgment while the appeal goes forward.The rules may also give a Debtor time to sell assets in an orderly fashion and to provide for the payment of sales proceeds to creditors.Chapter 11 is not inexpensive, and does require attention to administrative requirements, including the filing of monthly operating reports and the payment of quarterly fees to the United States Trustee, the branch of the Justice Department that oversees bankruptcy cases.
The overall cost of a Chapter 11 reorganization varies a great deal, depending on the complexities of the case and the ability of management to handle the administrative matters efficiently. The more thought and planning that goes on before a Bankruptcy filing, the less the bankruptcy will cost and the more quickly the case will conclude.
Most Chapter 11 practitioners offer a low cost or no cost initial consultation to evaluate the particulars of the case and to assist the business owner in determining whether it makes sense to go forward with a Chapter 11 filing.
Chapter 7 Liquidation:  If a reorganization is not realistic, filing bankruptcy may provide an outlet for a relatively inexpensive dissolution of a business, without the owners having to pay off most debt.
As mentioned above, Chapter 11 may be used to provide for an orderly liquidation of assets and closure of a business, either under a plan or through a sale (or series of sales) of assets.
If there is no real reason to keep a business operating, a business may consider Chapter 7 a better alternative. Chapter 7 is a liquidation proceeding, where a Trustee is appointed to sell assets and pay creditors according to the priority scheme set forth in the Bankruptcy Code. A Trustee may operate a business in Chapter 7 for a short time if the Trustee believes that they can get a better recovery by selling the business as a going concern (this does not happen often).
Upon the filing of a Chapter 7 case, the Debtor must cease operations immediately. The property should be secured until the Trustee has an opportunity to assess what, if anything, they want to administer.
There are instances where even a Chapter 7 filing is not warranted, especially in cases where the owners have repaid their own loans, or loans from family members to the company within a year of the bankruptcy filing.
A bankruptcy filing of any sort by an entity (corporation, LLC, etc.) does not generally protect the owners from liability on personal guaranties or for some types of tax obligations.
If bankruptcy is not the right choice for your business entity, the business can simply close its doors. Creditors may sue, but in most situations they should only be able to get a judgment against the entity, and if there are no assets, the creditor will have no ability to enforce the judgment. Creditors sometimes need to get the judgment so that they can write off the debt on their taxes, but if the business is gone, the creditor will simply close out their files.
If you want to know whether filing bankruptcy for your business might be right for your company, and assess the risks versus benefits of filing, you should talk to one or more bankruptcy practitioners until you feel you have sufficient information to make a decision.
Finkel Law Group, with offices in San Francisco and Oakland, has extensive experience guiding clients through the process of considering and, if appropriate, filing for bankruptcy. When you need intelligent, insightful, conscientious and cost-effective legal counsel to advise you as you determine the right path for your business, please contact us at (415) 252-9600, (510) 344-6601 or at info@finkellawgroup.com to speak with one of our attorneys about your matter.